FDF leadership team
Karen Betts OBE
Chief Executive

Karen joined FDF in December 2021. Prior to this, she was the Chief Executive of the Scotch Whisky Association for four years, representing the Scotch Whisky sector in the UK and export markets worldwide.

Before joining the SWA, Karen was a diplomat in the Foreign & Commonwealth Office for 16 years, where she held a variety of posts in London and overseas, including as British Ambassador to Morocco and Counsellor to the British Embassy in Washington. She was also posted to the UK's Permanent Representation to the EU in Brussels and to the British Embassy in Baghdad.

In London, Karen served in the Cabinet Office and for the Joint Intelligence Committee, as well as in several roles in the Foreign Office. Before joining Government, Karen was a lawyer at Clifford Chance, working in London and Hong Kong. Karen is an Adviser to the UK Government's Board of Trade.

Personal Assistant: Kay Relph

David Thomson
Chief Executive - FDF Scotland

David joined FDF Scotland as its CEO in December 2015 and is part of the senior FDF management team. David represents the views and concerns of our food and drink members to Scottish and UK governments, other policy makers, politicians and the media.

David is a member of the Scotland Food & Drink Partnership Board and an Honorary Fellow of Abertay University for his work supporting the food and drink industry.

He previously worked at the Scottish Government, including five years as Head of Food, Drink and Rural Communities and two as Head of Primary Care.

Kate Halliwell
Chief Scientific Officer

As Chief Scientific Officer, Kate is accountable for the FDF's food safety, food labelling, and diet and health policy briefs. Previously Kate led the FDF's diet and health policy work, and before that worked for the Department of Health and the Food Standards Agency on a range of nutrition and legislation policies. Kate is a member of IFST and a registered nutritionist.

Rebecca Miller
Director of Strategic Communications & Membership

Rebecca joined FDF as Director of Strategic Communications and Membership in February 2023. Pior to joining, Rebecca held positions in corporate and political communications for global, UK and regional markets, focused on helping consumer-facing businesses and organisations to create and protect their value. Prior to joining the FDF, Rebecca headed up the Communications and Member Engagement for Red Tractor, the UK's largest food and farming scheme.

Before this, Rebecca was Head of Media and Sustainability for Heineken UK and she also worked at Tesco during some of the most challenging years in its history, spearheading its Product Communications. She began her career working at City Hall, managing the media profile, and providing counsel for the Mayor of London and other senior politicians.

Balwinder Dhoot
Director of Sustainability and Growth

Bal has joined FDF in February 2023 as Sustainability Director. Bal has previously worked at DEFRA, where for the last 7 years he worked on a range of policy areas across the food system and from farming through to retail, including on productivity, trade, Brexit and Covid.

Bal has spent 23 years in the Civil Service, where he's worked in a wide range of roles and in a number of different Government Departments, including BEIS, FCDO, UKTI (now DIT) and time outside the Civil Service at Ofcom.

Danielle Price
Head of HR

Danielle joined FDF in September 2014 as HR Manager, and has been Head of HR since August 2016.

Prior to FDF, Danielle worked as HR Manager for Newmedica. Danielle's HR career began with the British Transport Police, where she completed a Masters in Personnel and Development and obtained her CIPD qualification. She spent the following 6 years working in generalist HR roles within food manufacturing businesses, including Heinz and Warburtons.

As Head of HR and a member of the leadership team, Danielle provides full HR support to FDF colleagues. Danielle ensures the people agenda supports the organisational goals. She works alongside colleagues to attract, recruit, retain and develop high quality talent as well as championing the employee wellbeing agenda.

Holly Smedley
Chief Financial Officer

Holly joined the FDF in 2013 following a 5 year career break. Prior to this, she held roles firstly as a full time Financial Controller and subsequently, following return from maternity leave, as part time Capital Manager with Genworth Financial. Before joining Genworth Financial, Holly held several different and varied roles within ExxonMobil's finance and audit departments during her 8 years with them where she also gained her Chartered Management Accountancy qualification.

Holly's roles as CFO, Board Director and member of the leadership team mean she is focused on ensuring that organisational goals are supported through sound financial, risk and governance structures. She works alongside colleagues on strategic planning, evaluation and business development initiatives. Holly is one of FDF's founding mental health champions and the FDF's first Mental health fist aider.

Jim Bligh
Director of Corporate Affairs and Packaging

Jim is Director of Corporate Affairs and Packaging at the FDF. He leads the FDF's political engagement, and its policy work on packaging. Jim and his teams work across the FDF's priority campaigns, ensuring the food and drink industry is well-represented in governments around the UK. On packaging, Jim focuses on securing well-functioning EPR and DRS schemes that deliver value for money and improve recycling rates.

Jim has led government and corporate affairs for some of the UK's leading brands across multiple sectors, including PepsiCo, TCS, Manpower and the CBI. He has extensive experience of operating at senior levels in global and UK-based businesses and trade bodies, working with stakeholders in business, government and the media to communicate and bring about policy change.

Jim has engaged with some of the most sensitive and complex policy challenges in the last 15 years, such as industrial relations, pensions, the Bribery Act, employment and equality, immigration reform, HFSS foods and packaging waste. He is a former chair of the Confederation of Indian Industry in the UK, and visiting fellow at the University of Oxford.
FDF values
Our core values are at the heart of everything we do. Our employees regularly evaluate themselves against a behaviour framework that underpins these values.
Excellence - We are 'can do', creative, continuously learning and making a positive difference.
Inclusive - We are one team across the UK that collaborates and supports one another.
Partnerships - We build strong partnerships, including with industry, Government and stakeholders, to deliver better and more sustainable outcomes.
Integrity - We behave ethically, honestly and transparently, and deliver on commitments to each other and to our members.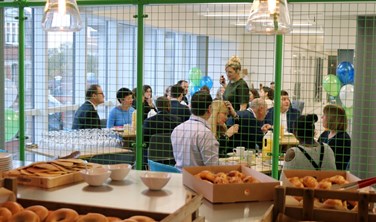 FDF is a great place to work. Our work gives our employees an opportunity to produce career-defining and agenda setting work. The FDF's teams are based in London, Edinburgh and Wales.