FDF leadership team
Karen Betts OBE
Chief Executive

Karen joined FDF in December 2021. Prior to this, she was the Chief Executive of the Scotch Whisky Association for four years, representing the Scotch Whisky sector in the UK and export markets worldwide.

Before joining the SWA, Karen was a diplomat in the Foreign & Commonwealth Office for 16 years, where she held a variety of posts in London and overseas, including as British Ambassador to Morocco and Counsellor to the British Embassy in Washington. She was also posted to the UK's Permanent Representation to the EU in Brussels and to the British Embassy in Baghdad.

In London, Karen served in the Cabinet Office and for the Joint Intelligence Committee, as well as in several roles in the Foreign Office. Before joining Government, Karen was a lawyer at Clifford Chance, working in London and Hong Kong. Karen is an Adviser to the UK Government's Board of Trade.

David Thomson
Chief Executive - FDF Scotland

As FDF Scotland's CEO David is part of the senior FDF management team. David represents the views and concerns of our food and drink members to Scottish and UK governments, other policy makers, politicians and the media.

Pete Robertson
Chief Executive - FDF Cymru


Pete joined FDF in April 2020, after 10 years with cereals and bars manufacturer Deeside Cereals having developed in financial and operational roles to lead the business as Managing Director. Previously, Pete led finance at Toyota's Engine Plant in Deeside and held Finance and Supply Chain roles at L'Oreal UK. Pete left audit practice with PricewaterhouseCoopers to join Dawn Pak and completed his degree industry placement with Tata Steel in Port Talbot.

Kate Halliwell
Chief Scientific Officer

As Chief Scientific Officer, Kate is accountable for the FDF's food safety, food labelling, and diet and health policy briefs. Previously Kate led the FDF's diet and health policy work, and before that worked for the Department of Health and the Food Standards Agency on a range of nutrition and legislation policies. Kate is a member of IFST and a registered nutritionist.

Jayne Almond
Director of Policy & Corporate Affairs


Jayne leads engagement with the FDF's key audiences in government, politics and the media. She directs FDF's policy development work on industry growth. Jayne joined the FDF in 2015, initially as Public Affairs Manager. She has significant past experience in public affairs and policy making at both UK and EU level, having worked at the Federation of Small Businesses (FSB), WM Morrison PLC and in regional and local government.

Danielle Price
Head of HR

Danielle joined FDF in September 2014 as HR Manager, and has been Head of HR since August 2016.

Prior to FDF, Danielle worked as HR Manager for Newmedica. Danielle's HR career began with the British Transport Police, where she completed a Masters in Personnel and Development and obtained her CIPD qualification. She spent the following 6 years working in generalist HR roles within food manufacturing businesses, including Heinz and Warburtons.

As Head of HR and a member of the leadership team, Danielle provides full HR support to FDF colleagues. Danielle ensures the people agenda supports the organisational goals. She works alongside colleagues to attract, recruit, retain and develop high quality talent as well as championing the employee wellbeing agenda.

Holly Smedley
Chief Financial Officer

Holly joined the FDF in 2013 following a 5 year career break. Prior to this, she held roles firstly as a full time Financial Controller and subsequently, following return from maternity leave, as part time Capital Manager with Genworth Financial. Before joining Genworth Financial, Holly held several different and varied roles within ExxonMobil's finance and audit departments during her 8 years with them where she also gained her Chartered Management Accountancy qualification.

Holly's roles as CFO, Board Director and member of the leadership team mean she is focused on ensuring that organisational goals are supported through sound financial, risk and governance structures. She works alongside colleagues on strategic planning, evaluation and business development initiatives. Holly is one of FDF's founding mental health champions and the FDF's first Mental health fist aider.
FDF values
Our core values are at the heart of everything we do. Our employees regularly evaluate themselves against a behaviour framework that underpins these values.
Excellence - We strive for excellence in everything we do to deliver value to our members and stakeholders.
Professional - We work professionally and use our expertise to effectively represent our members' common interests.
Integrity and openness - We operate with integrity by saying what we mean and delivering what we promise. We are open in how we manage our relationships and in our business practices.
Collaboration and teamwork - We share common goals and we support and challenge each other to achieve them. We recognise the value of different perspectives, knowledge and skills and seek to optimise them in our work.
Promoting a positive work environment - We create a positive work environment that supports wellbeing.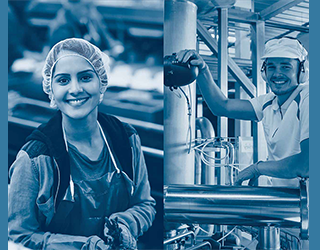 The Food and Drink Federation (FDF) is the convenor, adviser and voice of the UK food & drink industry, the largest manufacturing sector in the country.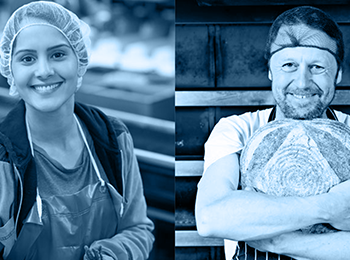 Find out more information about working for the FDF and to view our current job vacancies.