Double-digit food and drink inflation
17 August 2022
Food and non-alcoholic drink inflation jumped to 12.7% in July compared to July 2021, up from 9.8% in June. July marks a full year of price rises for food and non-alcoholic drink, and the second highest inflation rate since records started in 1989, just below August's 2008 rate of 13.2%.
Topics
Of the 49 main food and drink categories reported in the official statistics, 38 saw double-digit inflation in July, with some of the highest price rises recorded for low-fat milk (34.0%), flours (29.7%), butter (27.1), pasta and couscous (24.4%), poultry (16.1%), eggs (14.6%).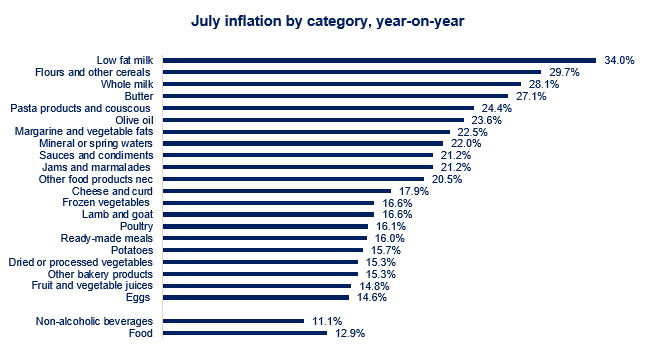 Food inflation is likely to continue to accelerate in months to come as food producer prices have sustained their upward pace. In July, food and drink manufacturers faced higher prices for their ingredients: food ingredients produced in the UK were 17.5% more expensive (up from 15.6%, revised, in June) and imported ingredients saw prices higher by 22.4% (down from 23.5%, revised, in June). Goods leaving the food and drink manufacturers' facilities saw inflation speeding to 14.0% (up from 12.6%, revised, in June).
The longer-term outlook is more difficult to assess, with global inflationary pressures and the ongoing war in Ukraine keeping uncertainty high for both the economic and geopolitical context. UK gas prices gained 42% in July from the previous month, now 240% higher than a year ago. Crude oil prices fell in July and prices of some global agricultural commodities have been receding over the past couple of months. However, they remain significantly above their level of a year ago and, as many are traded in US dollars, the sterling depreciation means that some of those gains will be undone for the UK producers. Moreover, staff shortages keep wage pressures elevated in the industry as vacancies in Q2 rose to 6.3 unfilled positions for each 100 employees, significantly above UK's figure of 4.3.
All of this means that food and drink manufacturers have been facing cost pressures much larger than the rise in retail food prices for over a year now, and prolonged pressures have become increasingly more difficult to sustain.
In the wider UK economy, prices were 10.1% higher on average in July, above June's inflation of 9.4%, with food, alcohol & tobacco and clothing the main drivers behind July's price rises. The largest contributions came from transport and food and non-alcoholic drink, while rising food prices made the largest upward contribution to the change in the annual inflation rate.
Inflation is expected to continue to accelerate. The Bank of England projects inflation to reach just over 13% in October, with about half of the increase due to the steep rise in energy prices brought on by the war in Ukraine.
Spiralling prices mean that pay growth is not keeping up with inflation. In Q2, real pay fell on average by 3.0%, its fastest drop since 2001 when records started, and that trend is expected to continue – with the Bank expecting post-tax real income to fall by over 4% in real terms in 2023.
The income shock to households is taking hold. GDP contracted in Q2 in part due to the slowdown in consumer spend. Retail sales, in volume terms, fell in May and June.
An ONS survey run in Q2 found that 90% of the British public have seen their cost of living go up. 57% of those have reported that they spend less on non-essentials, 51% said that they spend less on gas or electricity and 42% cut back on non-essential journey. Even more worrisome is that a third (35%) of people experiencing cost rises report lower spend on food and essentials, with that proportion going up to 42% for people living in the most deprived regions in England.
As significant squeezes on real income continue and business conditions remain harsh, our industry is facing some of the highest cost pressures we have seen in over a decade. The new Prime Minister needs an ambitious economic package that addresses the cost of living crisis and supports businesses to invest, with a reform of R&D tax credits, to stimulate growth, and the Apprenticeship levy to address the labour shortages our industry currently faces.