Fastest drop in real incomes in 20 years
16 August 2022
The labour market remained hot in Q2, with conditions fairly similar to those in Q1, although some developments might warn of an economic slowdown ahead. The number of employed people rose on the quarter, although the employment rate fell by 0.1 percentage points and the unemployment rate rose by 0.1 percentage points, while the inactivity rate remained unchanged.
Topics
For the first time since August 2020, the number of vacancies fell in the three months to July. Nevertheless, there were about 450,000 more vacancies than in 2019. In the UK as a whole there were 4.2 vacancies for each 100 jobs (down from 4.3 in Q2), while manufacturing saw no change, with 3.9 vacancies for each 100 workers.

Vacancy rates in food and drink manufacturing sector are above the UK average, at 6.3 vacancies for each 100 jobs, up from 5.2 in Q1. Shortages were reported for a variety of roles: from production operatives and drivers to specialist roles, like butchers or flavourists, to engineers and IT roles.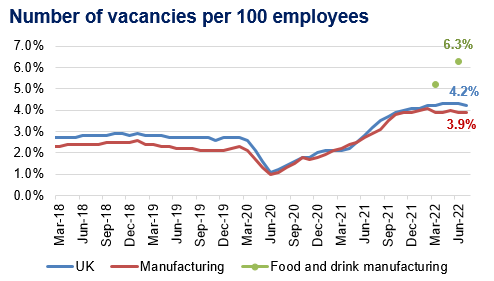 Source: ONS and FDF State of Industry Surveys.
And pay data revealed that the cost of living crisis is playing out in earnest, with real pay seeing its fastest drop since 2001, when records started. While many people built up their savings during the first half of the pandemic, those gains are being now undone, with price rises outpacing pay rises since November 2021. Moreover, this comes against the larger backdrop of stagnant pay rises during the 2010 decade.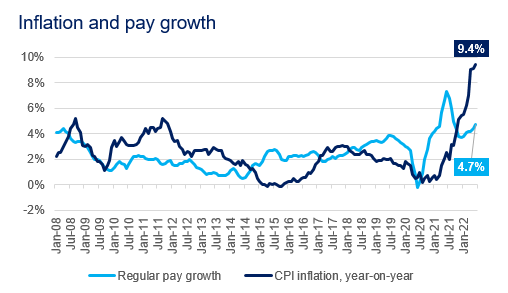 Source: ONS.
As the energy cap is projected to rise again in October, pushing inflation higher, it's also expected that the economy will enter a recession in months to come. Already, households have started cutting their spending, one of the reasons why the UK economy has contracted in Q2. When consumer spend dwindles, businesses are implicitly faced with a weaker demand which, in turn, triggers lower employment. However, the current severe labour shortages will likely increase the usual lag between a fall in demand and a fall in employment. Difficult recruitment conditions mean that companies will likely attempt to employ their workers less intensively by reducing the number of hours worked, hence keeping more employees on payroll than otherwise.
In these challenging times, our members need more than ever the support of government, with reform to R&D tax credits and the Apprenticeship levy to address the chronic labour shortages present across the industry.