Food and drink output falls in April
13 June 2022
The UK economy contracted for the second consecutive month in April. UK GDP fell by 0.3% in April, following a contraction of 0.1% in March. April is the first month when all main sectors of the economy have contributed negatively to a monthly GDP estimate since January 2021.
Topics
Monthly GDP, Index, 2019 = 100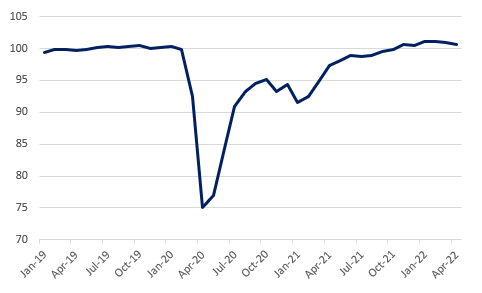 Source: ONS
The manufacturing sector shrank by 1.0% in April, down from a fall of 0.2% in March, with 8 out of the 13 manufacturing subsectors recording negative growth. Food and drink manufacturing had the third largest negative contribution to the manufacturing decline.
April data shows that persistent rises in production costs over the past 18 months are playing out in earnest. UK manufacturers reported that rises in prices of energy, animal feed, cooking oil, fertiliser, chemicals, aluminium and steel had a negative impact on production.
Strong headwinds persist for the UK economy and our industry alike. OECD cut its UK growth forecast for 2023 to 0.0% reflecting high inflation and rising interest rates. Ongoing supply chains snags from the pandemic, significant price pressures and staff shortages against a backdrop of more expensive borrowing and significant uncertainty will drag on production and investment. The Government announced a package to alleviate the effect of rising prices on households. While this will support consumer spend and potentially help avoid a demand-led recession, the main determinant of household spending will be the behaviour of energy prices and the hikes to consumers in the fall.
The food and drink manufacturing is disproportionately impacted by current conditions. Earlier in March, the ONS reported that higher energy costs impacted food and drink businesses more than the rest of the economy, with 60% of them reporting negative impacts on production, compared to just 38% of all UK businesses. In addition, the war in Ukraine means that food ingredients have seen substantial rises. Between June 2020 and January 2022, global food prices rose by 23%, but between February and May of this year, after the war started, they rose by a further 31%. Such significant rises over a short time span will mean that manufacturers will try to absorb some of these increases at the cost of foregone investment, potentially hurting the longer-term growth of our sector.