Food prices on the rise again
13 April 2022
Food and non-alcoholic beverages inflation accelerated in March, with prices rising by 5.9% year on year, up from 5.1% in February. This is the highest inflation rate since September 2011. The highest price rises were recorded by margarine and other vegetable fats (34.8%), lamb and goat (16.9%), low fat milk (14.2%), pasta products and couscous (10.1%), butter (9.6%) and eggs (8.4%).
Topics
Food inflation will continue to accelerate as current price increases only reflect cost pressures brought on by the pandemic. It takes up to a year for these cost increases to be passed on to retail prices. Producer price inflation, which leads consumer inflation, accelerated to 6.8% in March up from 6.1% in February. Further up the supply chain, food manufacturers faced more expensive ingredients in March, paying 7.1% more for food ingredients produced in the UK (up from 6.8% in February) and 11.1% more for those imported (up from 8.8% in February).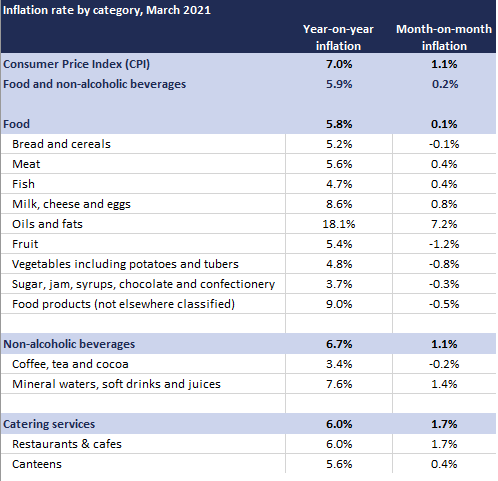 Source: ONS
The war in Ukraine brought fresh disruptions for the whole global economy, but mainly to agricultural commodities and energy supplies. As many food and drink production processes are energy-intensive, this shock leaves the food and drink manufacturers particularly vulnerable. An ONS survey found that 63% of the food and drink businesses (including manufacturers, wholesalers and retailers) reported in March that energy prices had already had an impact on production and/ or supply. That compares to 38% across all UK sectors.
The impact of the conflict will be seen in earnest only in the fall when we'll be able to assess the impact of using less fertiliser on global crop yields. As Russia and Belarus were the main global producers of fertilisers, current sanctions mean that less was available for the current spring planting. Global agricultural prices saw a significant surge in March, up 33.6% on the year and 12.6% on the month. Expectations that at least 20% of Ukraine's winter crops (which were planted) may not be harvested and uncertainty around fall yields led to the jump in prices. All of this means that cost pressures on the food manufacturers will intensify in months to come, adding to an already high inflationary environment.
In the wider economy, headline annual inflation reached 7.0% in March, up from 6.2% in February and the highest rate since March 1992. There were many categories that pushed up prices, with energy and transport in the lead, but also with significant contributions from furniture, restaurants, and food. CPI inflation will accelerate in April when figures incorporate the 54% average rise in energy bills. Starting April 1, it's estimated that the average annual payment of a UK household will rise from £693 to £1,071. With wages and pensions growth lagging behind price rises, the OBR estimates that 2022 will see the biggest fall in the UK living standards since records began in 1957.
Slowed growth and high inflation coupled with high inflationary expectations of the public – at 6.1% in March 2021, leaves the Bank of England in a difficult position. Monetary policy can only act as a signal about the Bank's commitment to its 2% inflation target, but can't do much to sort out supply shocks. It's expected that the Bank will raise rates for a fourth consecutive time at the next meeting in May.