Labour market remains tight, despite weaker economy
11 October 2022
The UK is facing the tightest labour market in many years. While economic activity seems to be slowing, high economic inactivity keeps the labour market hot.
A rise in the number of people afflicted with long-term illnesses pushed the unemployment rate to 3.5% in August, its lowest since 1974.
Topics
However, there are signs that the labour market has started to cool. Employment over the three months to August fell to 75.5%. A separate KPMG and REC (Recruitment and Employment Confederation) survey found that recruitment slowed to a 19-month low in September. Vacancies also fell for the fourth consecutive month in September, although, at 1.2mill, they are near historic highs. Moreover, there are 0.9 people looking for work for every job opening in the economy, a record low.
The UK stands out amongst its peers when it comes to poor rates of labour market participation. Between 2019 and Q1 2022, the UK saw a fall of 0.7 percentage points in its participation rate, compared to a rise of 0.7 percentage points for the median OECD country. The weak participation rate seems to be explained by more people retiring earlier and more people reporting long-term sicknesses.
Number of UK vacancies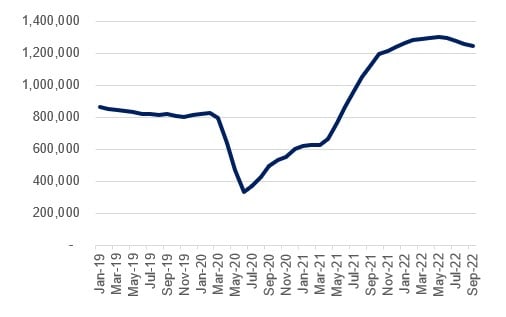 Source: ONS
As employers struggle to fill positions, despite signs of slowing economic activity, pressures on wages will remain high. Earnings data confirm this, with nominal regular pay growing by 5.4% over the three months to August, the strongest growth since records started, excluding the pandemic period. In real terms, regular pay fell by 2.9% -- also among the largest falls in real pay growth.
These labour market developments are challenges for the monetary policy makers and businesses alike. High wage rises coupled with low unemployment will keep the pressure on the Bank of England to raise interest rates. But while higher interest rates will stifle growth, elevated wage pressures will not squash inflation, leaving the Bank facing a tough conundrum.
Staff shortages have significantly tested businesses, as there are no real short-term solutions, with SMEs particularly challenged, as they have a lower ability to increase wages aggressively. Food and drink manufacturers have been reporting a higher vacancy rate than the UK one, with 6.3 unfilled positions for each 100 jobs in Q2, above the UK's average of 4.2, with shortages reported across a wide range of roles and skills, from high-skilled roles (engineers, HR and legal) to technical specialists (butchers and laboratory technicians) and production operatives.
Manufacturers are tackling these shortages using a variety of approaches, from increasing pay and offering more generous benefits, to increasing flexibility and upskilling their workforce. However, this is impacting production levels and costs and is adding to the enormous pressures seen by the industry over the past two years.
As a result, many businesses are looking to invest more in advanced technologies, but the uncertain economic outlook and the range of upcoming, complex government regulation is holding them back. The UK Government's newly announced independent review into labour shortages across the food chain is welcome, but we also need to see the skills system work better right across the country as well as a reformed and more flexible Apprenticeship Levy.