Resilient food and drink sector growing as economy struggles
13 May 2022
The UK economy grew during the first quarter of this year, although it shrank in March as soaring living costs and the war in Ukraine hindered recovery. The risk of a recession is increasing but there is positive news for our industry.
Topics
The food and drink manufacturing sector grew in Q1 2022 compared to Q4 2021, with the food manufacturing seeing growth of 2.0% and non-alcoholic drink manufacturing by 3.8%. Within the food manufacturing sector, all subsectors recorded growth, except the Fish, fruit and vegetables, which contracted by 2.4%.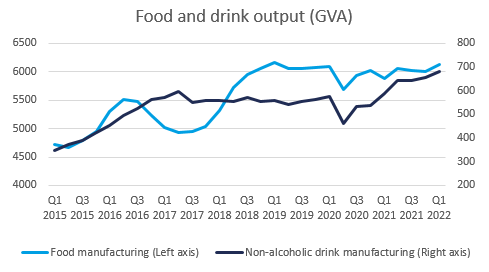 Source: ONS, GVA, chained volume measures
However, a more nuanced picture emerges if current output levels are compared with pre-pandemic levels. While the non-alcoholic beverage sector expanded by a vigorous 20.8%, some of the food manufacturing subsectors are yet to recover from the blows of the pandemic, with the grain mill and starch products subsector shrinking by 12.2% in Q1 2022 compared to Q4 22019 and the meat subsector by 6.5%. In contrast, the bakery subsector grew by a robust 10.3% and the dairy sector by 7.2%. Overall, the food manufacturing is now 1.0% larger than pre-pandemic.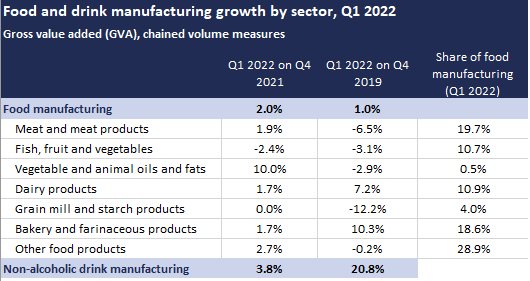 These figures show the resilience of the food and drink manufacturing sector, with most subsectors in growth in Q1. Against a background of new regulations and new trading terms with the EU, the pandemic delivered labour shortages, supply chain disruptions and a spike in commodities prices, all of which pushed costs of doing business up. Alas, the war in Ukraine means the sector is confronted with new challenges, as global food supply chains have been severely disrupted and energy costs pushed off the charts.
An ONS survey found that food and drink businesses (including manufacturers, wholesalers and retailers) are disproportionately impacted by the rise in energy costs, 63% of them reporting that higher energy costs had already impacted their production and/ or supply. That compares to 38% across all UK sectors. In addition, many manufacturers are confronted with a shortage of ingredients, from sunflower or rapeseed oil, wheat, ammonia to dried fruits and packaging.
The outlook for UK growth in the medium term is lacklustre at best. The economy grew in Q1 - by 0.8% in Q1 on Q4 2021 and is now 0.7% above its Q4 2019 level. But it's feared that the rebound will be sharply slowed in its tracks, as the war in Ukraine has intensified inflationary pressures, with expectations that price rises will reach 10% by the end of the year. The Bank of England rose interest rates for a fourth consecutive time in May, in an attempt to control inflation, and warned that more hikes are to be expected. But the high cost of living has already slowed down discretionary spending – retail sales fell in April, and will likely weigh on business activity.
In these very challenging times, we continue to call on the government to conduct a robust review of regulation and to act where it is adding to price rises in shops. There are a number of areas where this would help, including on plastics packaging where the UK's recycling infrastructure is lagging behind and new laws mean the costs of this are being passed to consumers instead of prompting necessary government investment.