A second quarter of jobs losses
14 March 2023
The food and drink industry lost 3,000 jobs in Q4, following a decline in employment of 7,000 jobs in the preceding quarter. This is a fall of 0.9% in the industry's labour force compared to Q3 2023, or 0.7% compared to Q4 2022. Total employment in the industry now stands at 450,000.
Topics
In contrast, the UK economy added 318,000 over the same period, a gain of 2.6% on the quarter, or 0.9% on the year.
Jobs in the food and drink manufacturing – total and 4-quarter averages (in '000)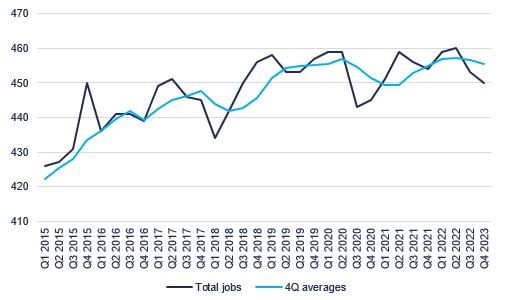 Source: ONS, JOBS03 and JOBS04 series

At the same time, severe staff shortages persist, across a wide range of roles and skills, from highly skilled engineers and scientists to machine operatives and packing operators. Manufacturers reported 7.0 unfilled positions for every 100 jobs in Q4, down from 9.1 in Q3, but nearly double the UK average of 3.8.
Taken together, these two pieces of information do not bode well for the industry. The fall in employment is likely to have been caused in large part by companies struggling or going out business. In 2022, there were 244 insolvencies in the industry, exactly double the number seen in 2019. While the slowdown in vacancies reflects businesses putting projects on hold and removing job adverts as economic uncertainty and a slowdown in consumer spend take hold. Food volume sales continued to decline in February. According to BRC-KPMG figures, food sales rose by 8.3% over the three months to February. With inflation over 16%, this implies a loss in volumes of about 7%. This would negatively impact growth prospects for manufacturers that are seeing falling demand for their products.
At the same time, the extremely high vacancy rate means that persistent labour shortages are also slowing growth for companies that can undertake investment, but the lack of labour resources is preventing them from doing so.
Vacancy rates in the food and drink manufacturing, UK and manufacturing
(number of vacancies/ 100 employees)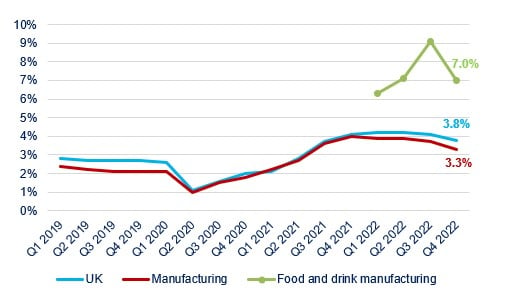 Source: ONS and FDF State of Industry Surveys
Investment is key to growth and maintaining competitiveness. It's even more important for our industry now, when the last three years of sustained cost pressures have significantly eroded margins and industry's resilience.
ONS data shows that over the last year, on average, 72% of food and drink manufacturers stated they had to absorb rising costs. That compares with 56% of all companies across the UK and 53% of food retailers, suggesting that the industry has been disproportionately impacted by the rise in input costs during the pandemic and the war in Ukraine, compared to the average UK business. It also suggests manufacturers absorbed a lot of pain to support households and did not share the full extent of rising costs.
Percent of businesses that had to absorb costs to deal with cost rises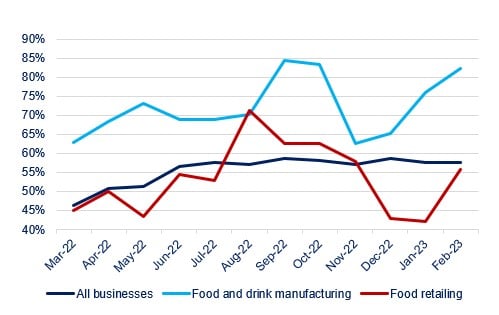 Source: ONS
The UK labour market remains tight, although slower wage growth, a drop in vacancies and economic inactivity point to a cooling market. The employment rate rose 0.1 percentage points over the three months to February to 75.7%, unemployment was flat at 3.7%. The inactivity rate fell by 0.2 percentage points while vacancies eased for the ninth consecutive month to 1,124,000. This means there are still about 300,000 more vacancies than pre-pandemic.
Regular pay climbed by 5.7% and total pay (which includes bonusses) by 6.5%. While that is a deceleration, these rates of wage growth are high by historical standards.
The big question is what the Bank of England will decide at its meeting on 23 March. The labour market slowdown is not strong enough to warrant a pause in interest rate rises, especially when coupled with economic growth that exceeds expectations. Latest GDP figures show that the UK economy grew by 0.3% in January, up from a contraction of 0.5% in December. However, the recent collapse of two American banks has brought a sharp deterioration in global financial conditions and has shaken financial markets, making it likely that the Bank will pause rate hikes for the near term.
In the short-term, the outlook for the UK economy and industry remains gloomy, as inflation continues to bite and manufacturers continue to face rising costs, albeit at a slower pace.
With vacancy rates in the food and drink sector double the national average, there needs to be a more flexible approach to tackle skills shortages that prevail at every level. Tomorrow's budget provides a clear opportunity for the Chancellor to work with our industry, and support businesses to invest in innovation, automation and skills as we transition towards an even more productive and highly skilled sector.