Growth challenges on the horizon
15 August 2023
In Q2, compared to the same time last year, the food manufacturing sector was 2.0% smaller, while the non-alcoholic drink sector grew by 6.4%, according to recently released data by the Office for National Statistics (ONS). Compared to Q1, food manufacturing saw no growth, whereas non-alcoholic drink manufacturing grew by 4.6%.
Topics
By subsector, performance was varied (see table). Quarter on quarter, some subsectors: dairy, grain mill and starches or 'other food products', have seen four consecutive quarters of contractions.
Growth in the food and drink manufacturing, by subsector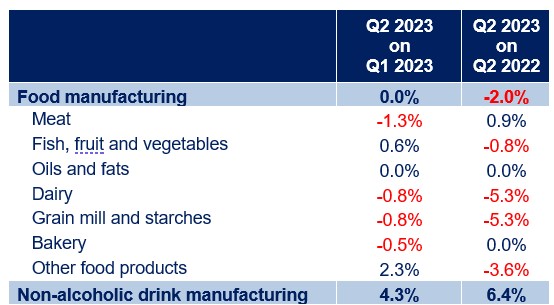 Source: ONS, GVA chain volume measures. The chain volume measure removes the impact of inflation.
Note: Dairy and grain mill and starches categories have seen similar rates of growth.

Brexit, the pandemic and the war in Ukraine resulted in almost three years of increases in all elements of the production process, from ingredients and labour to logistics, transportation, packaging and energy. Cost pressures have been subsiding recently, although not across the board. While global agricultural commodities have been on a downward trajectory since March 2022, the collapse of the Black Sea Grain Initiative and recent weather events might reverse this trend. We have already seen global vegetable oil prices rise by 12% in July from the previous month, while the heat wave in Southern Europe might mean that the UK is likely to see lower availability of fresh produce, therefore higher prices.
Moreover, the industry continues to struggle with significant labour shortages, with a vacancy rate of 5.9% in Q1 compared to 3.5% in the whole economy. This not only pushes wages up, but hinders the industry's ability to grow.
To deal with these sustained pressures, manufacturers have switched suppliers, cut marketing and training expenses, paused or cancelled investment projects and accepted lower margins. The ONS reports that, on average, 74.0% of manufacturers absorbed a share of the cost rises over the year to July, compared to 57.5% of retailers, 65.3% of restaurants and cafes or 55.2% of the average UK business.
However, these strategies still proved to be insufficient for some businesses. Insolvency data show the strain on the industry. In 2022, food and drink manufacturing insolvencies doubled compared to 2019, and this year it's likely that will see an even higher number, as 161 were recorded during the first half of the year (see table). It's noteworthy that the industry's insolvency rate has been outpacing the insolvency rates seen in the wider manufacturing sector or GB as a whole.
Number of insolvencies

Source: The Insolvency Service, gov.uk

Strong demand would help manufacturers to rebuild margins and grow. But the ongoing cost of living crisis has led to households cutting their spend on food. In-store food sales have fallen 2.6% in volume terms over the year to June, and about 50% of the population is buying less food than a year ago.
All of this leaves the industry in a difficult place. Historical insights show that a series of negative shocks can result in poor economic performance. Global agricultural commodity prices more than doubled in 2008, real household incomes dropped sharply following the financial crisis, and a second agricultural commodity shock followed in 2012. As a result, the food and drink manufacturing shrank by 7.9% in 2010, by 5.1% in 2011 and by 2.4% in 2012 (see chart).
GVA, chain volume measures, £mil
Source: ONS, GVA, chain volume measures. The chain volume measure removes the impact of inflation. This means the chart shows the evolution of output (volume) in real terms.
This suggests current conditions of intense cost pressures and lower spend could result in a contraction for the food and drink sector in 2023.
Government needs to continue to work with us to mitigate these issues, simplify and revisit forthcoming regulation on borders, to help reduce unnecessary cost burdens for businesses, and create the right conditions for growth. The upcoming Autumn Statement will be a timely opportunity for the Chancellor to support growth and attract private sector investment.