UK passes peak food price inflation
21 June 2023
Food and non-alcoholic drink annual inflation eased to 18.4% in May, down from 19.1% in April. This is the second consecutive month of decline and confirmation that we're past peak food price inflation. On the month, prices rose by 0.9%.
Topics
The largest downward contribution to May's annual rate came from milk, cheese and eggs, while fish was the only category that continued to rise.
Of the 49 main food categories reported in the official statistics, 44 recorded double-digit inflation, with sugar seeing the highest rise in prices on the year, at 49.8% (see chart), and 'other tubers' the lowest, at 3.4%.
Food and drink inflation by category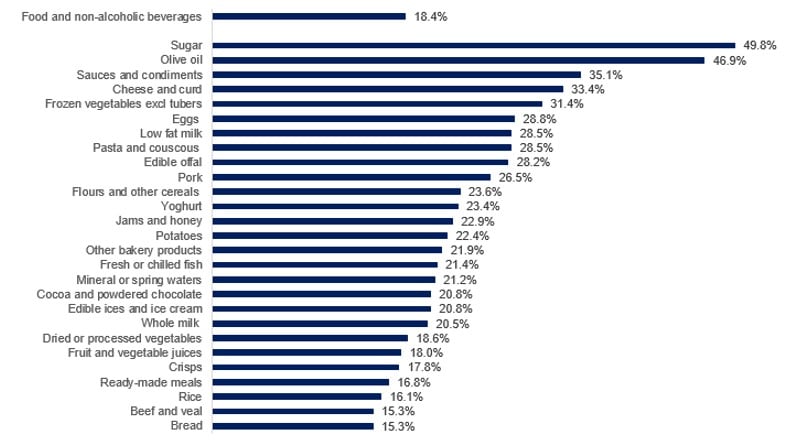 Source: ONS
Global food prices have seen another fall in May, now 22% below their March 2022 peak, but still 25% above their February 2020 level. Gas prices have also fallen since December 2022, when they reached a seven-fold increase compared to pre-pandemic levels, but now are double the levels of 2019. However, volatility in energy markets remains elevated, with gas prices on the rise again, having reached a level of 15% above pre-pandemic levels earlier this month.
Food and drink manufacturers saw their costs rise at a slower pace for a third consecutive month. Inflation of UK-sourced ingredients slowed to 5.8% (down from 7.8% in April) and of imported ingredients to 24.0% (down from 24.5% in April). While inflation of goods leaving manufacturers' facilities – output gate prices, fell to 11.5% (down from 13.6% in April).
The seeming discrepancy between decreases in global commodity prices and rises in manufacturers' ingredient costs stems from the use of fixed-term contracts with suppliers (forward buying) and the use of futures contracts traded on commodity exchanges (hedging). These will vary across businesses depending on business plans and products. Food manufacturers can lock in commodity prices for up to 12 months, long enough to cover a season of bad weather, but short enough for underlying demand changes to feed through. At the same time, this protects consumers from price volatility. For some commodities delivery times can be five months or longer, while inventory held as buffer stocks also delays the transmission of price changes.
While the labour market remains tight. Industry's staff vacancies fell to 5.9% in Q1 compared to 7.0% in Q4, the lowest rate since Q1 2022 (5.2%). However, this remains uncomfortably high at almost double the rate of UK manufacturing as a whole of 3.1% and above the UK's rate of 3.5%.
All of this paints still a sombre picture for the industry. The good news is that cost pressures are easing and the industry is seeing some return to stability for the short-term. But medium and longer-term volatility persists.
There is great uncertainty about energy prices. Futures market suggest gas prices will be double in the coming winter compared to 2019. Without fiscal support, this is a substantial cost pressure for the industry, as many food and drink manufacturing processes, from baking to roasting coffee, are energy intensive.
Severe, persistent labour shortages have driven up pay, with most businesses reporting pay rises of 4-6% over the year to March 2023, and similar increases projected for the next year. Besides inflationary pressures, labour shortages continue to hold back growth – with some manufacturers unable to take on new orders due to the lack of available staff and skills. Wider economic developments which have slowed down consumer spending generally and spending on food and drink in particular will also hinder growth.
Now we're facing the risk of higher agricultural commodity prices if the Black Sea Grain Initiative is suspended. The deal is due to be renewed on 17 July, but Russia has threatened to walk away if obstacles in its own grain and fertiliser exports are not removed. While Russian exports of food and fertiliser are not subject to sanctions, restrictions on payments, logistics and insurance act, in effect, as a barrier to exports. In May, exports out of Ukraine had fallen to below 40% of the monthly average since the deal came into effect in August 2022.
Against a backdrop of over two years of cost rises across the board, from ingredients and packaging to labour, transportation and logistics, and significant margin erosion, many manufacturers are in a precarious situation. Insolvencies in the industry are rising, with 244 insolvencies in food and drink manufacturing in 2022 – double the rate of 2019, contrasting starkly with to a rise of 25% in Great Britain. There's likely more to come this year, with 71 insolvencies already recorded in Q1 2023. This amounts to 58% of all 2019 insolvencies in the sector, compared to 38% for Great Britain as a whole.
Number of insolvencies

Source: The Insolvency Service

The biggest short-term challenge facing the industry is the ability to pass on a share of cost increases. For the medium and longer-term, subdued investment and climate change are the main risks to growth. A slow economic recovery in which consumer spend fails to recover, and poorly designed government regulatory interventions, such as existing plans for Extended Producer Responsibility and the introduction of UK-wide 'not for EU' product labelling, will further inhibit investment and growth.
In the wider economy, inflation did not slow, with prices rising by 8.7% in May, a similar pace as in April. However, the headache for the Bank of England is a renewed acceleration in the core inflation measure (which excludes more volatile items, such as food and energy) to 7.1% in May from 6.8% in April, its highest since March 1992, and significantly above the Bank of England's 2% target. With pay growth also outpacing the 2% target – 7.6% for the private sector and 5.6% for the public sector in April, interest rates will inevitably rise again. Markets are now betting on rates increasing to 5.50 – 5.75% until the end of the year. The Bank's thinking is that the rise in interest rates will help to slow demand, which will put downward pressure on prices, slowing inflation. Whether that will work depends on whether inflationary expectations have become baked into the public's expectations.
High input costs and a challenging regulatory environment are taking their toll on our sector too, with insolvencies on the rise, now more than double their pre-pandemic level while overall output is shrinking. Food and drink manufacturers are being forced to cancel or pause planned investments, restructure their businesses and reduce production – all of which is going to have a negative impact on future growth. We continue to ask the government to work with us to mitigate these issues – to simplify and reduce the costs of regulation and to help put in place the necessary conditions to support a return to growth – to help avoid long term scarring in our sector.