UK food and drink exports hit record highs in 2022
27 February 2023
The UK's largest manufacturing sector has posted record figures for exports in 2022, according to the Food and Drink Federation's (FDF) full-year trade snapshot.
Topics
The FDF has compiled the latest trade figures released by His Majesty's Customs and Excise, which show there's been a resurgence in export sales in food and drink, with most categories now exceeding pre-pandemic levels to reach a record £24.8bn.
Exports to Europe rose 22% to £13.7bn and developing markets did well too, with fast-growing economies like Vietnam nearly doubling. For the very first time, exports to non-EU markets have broken through the £10bn barrier, hitting £11.1bn.
News that the UK and EU have reached an agreement on the Northern Ireland Protocol is welcome. We look forward to the details of this agreement and how it will provide a pragmatic and business friendly solution that will ensure Northern Irish consumers can continue to enjoy a full choice of quality UK products, without facing higher prices.
While supply chain disruption and high energy bills have played a part in the rise in value of UK exports, there has also been strong volume growth in most product categories over the last 12 months. This shows that the global appetite for high quality UK food and drink products continues to grow around the world.
Chocolate remains the UK's top food export, worth £824m, but there are clear indications that next year this could be overtaken by cheese, which has achieved rapid growth in overseas sales.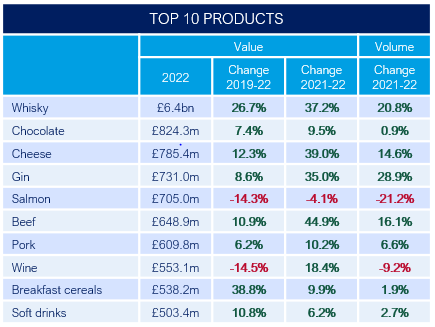 Head of International Trade, Dominic Goudie said:
"UK food and drink continues to be recognised around the globe for its high quality, safety, and sustainability credentials, with demand as strong as ever across the EU and at record levels in developing markets. As the UK's largest manufacturing sector, dynamic trade is vital if our sector is to deliver the robust growth we'd like it to in the coming months and years, benefitting communities in every part of the UK.
"Imports are essential for the success our sector, adding value to UK produce while ensuring consistent availability and value for shoppers. There also remains substantial opportunities to deliver further export growth, but this will require government to use all the trade policy levers at its disposal in support of the food and drink sector, to ensure that our producers can access competitively priced ingredients and sell into the fastest-growing markets."
UK Food and Drink Exporters Association director Nicola Thomas said:
"These cheering export growth figures are testament to the dogged determination of UK food and drink exporters, not only to exploit global commercial opportunities, but also to break down the myriad of barriers which hindered their international trade drive in 2022.
"We are encouraged to see the increasing demand for British products in emerging markets such as Vietnam and the MINT territories which are helping to up new sales avenues for our more established exporters; in addition, recent FDEA research among our network of overseas in-market partners highlights a wide range of product categories in almost universal demand including snacking, non-alcoholic drinks, health & wellness, dairy and private label. There is huge scope for UK companies to seize further opportunities in 2023."