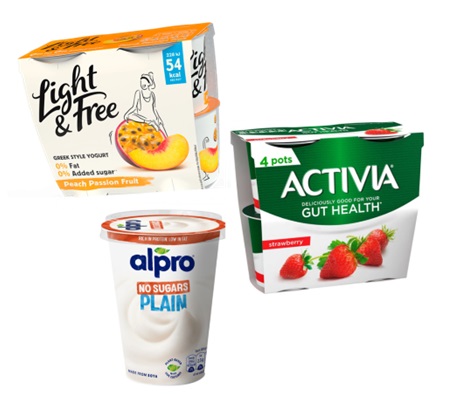 Danone's reformulation journey
30 August 2023
Danone UK & Ireland offers everyone healthy food and drink choices every day and develops products which provide tailored nutrition at all stages of life. They lead in numerous categories with their well-known global brands – like Evian, Activia, Actimel and Alpro.
Topics
As part of Danone's recently released health commitments in the UK & Ireland, it has promised that at least 90% of its portfolio of products by sales volume will not be high in sugar, salt or fat (HFSS)*, defined by the UK Government's current policy and legislation relating to HFSS, it will never again produce an HFSS product for children and that over 90% of its portfolio will be rated as "healthy", according to the Health Star Rating- system.**
Following Public Health England's sugar reduction programme for yogurts and fromage frais between 2015 and 2020, which established a target of 20% sugar reduction in sales weighted average total sugar per 100g, Danone reformulated products in this category and reviewed its portfolio, resulting in a reduced sugar content in their yogurts of 16%, tracking ahead of the 13.5% reduction achieved across the whole yogurt category.
Despite the programme ending, Danone continued to reduce the volume of sugar sold to ensure that products are as healthy as possible. As of 2022, it had achieved a 21% reduction in total sugars, compared to 2015 levels, across its yogurt and plant-based alternative to yogurt portfolio, including Activia, Light & Free, Alpro.
Danone is committed to maintaining a health-focused portfolio, however, reducing sugar levels is a complex task. Decreasing sugar levels too much, too quickly can result in consumers not enjoying the product as much, and instead choosing a less healthy alternative. So Danone is continuing to research innovative ways to further reduce sugar in yogurt while maintaining a great taste, so that it can continue to produce even healthier yet still delicious products.
* HFSS refers to food and drink products that are high in saturated fat, salt or sugar according to the 2004/2005 Department of Health's Nutrient Profiling Model (NPM).
** The Health Star Rating index (HSR) assesses the overall nutritional profile of packaged food and assigns it a rating from 0.5 stars (least healthy) to 5 stars (most healthy). The system was developed by the Australian state and territory governments in collaboration with industry, public health, and consumer groups. It is used across Australia and New Zealand and is widely accepted as being easily applicable to any global market. The threshold of "healthy" is set at 3.5 or above (≥3.5 HSR).