Employment in the food and drink industry on the rise
13 September 2022
Employment in our sector continues to rise, with food and drink manufacturers adding 3,000 jobs in Q2 and bringing the total number of jobs in the sector to 478,000. Employment in the sector has been on an upward trend for a while.
Topics
Jobs, measured by the 4-quarter averages, a better indicator of the underlying trend as seasonality is removed, have been persistently rising since Q1 2021.
Jobs in the food and drink manufacturing: total and 4-quarter averages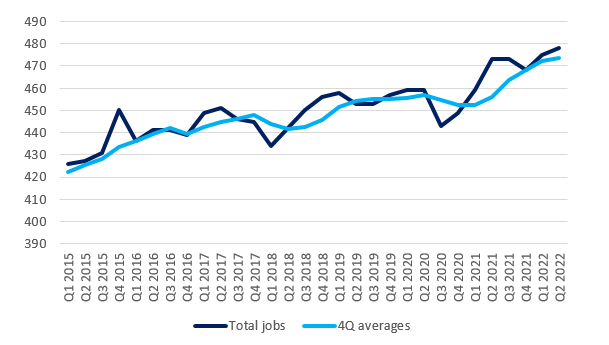 Source: ONS, JOBS03 and JOBS04 series.

However, in the Q2 State of Industry Survey, food and drink manufacturers have been reporting a higher vacancy rate. The number of unfilled positions for each 100 jobs had risen to 6.3, up from 5.2 in Q1, and above the UK's average of 4.2. More worryingly, shortages were reported across a wide range of roles and skills, from high-skilled roles (engineers, HR and legal) to technical specialists (butchers and laboratory technicians) and production operatives.
Manufacturers are tackling these shortages using a variety of approaches, from increasing pay and offering more generous benefits, to increasing flexibility and upskilling their workforce. In turn, this is impacting production levels and costs and is adding to the enormous pressures seen by the industry over the past two years.
In the wider economy, there is mixed news. The unemployment rate over the three months to July fell to 3.6%, its lowest since 1974, while employment also fell slightly to 75.4%, 1.1 percentage point below its pre-pandemic level. While it may seem counterintuitive for the two to happen simultaneously, both indicators are impacted by more people leaving the labour market. More people choosing to study or long-term ill drove the inactivity rate -- the proportion of those not working and not actively looking for a job, up by 0.4 percentage points from the previous three months.
At the same time, over the three months to August, the number of vacancies fell for the third month in a row to 1,266,000. Nevertheless, there are 470,000 more vacancies than pre-pandemic. And, despite, the fall in the number of vacancies, the number of unemployed people per vacancy remains at an historical low of 1.0.
All of this means the labour market remains tight, although the fall in vacancies might be the first sign of cooling. Against the economic slowdown, a drop in vacancies points to either businesses being cautious about taking on new staff or to them facing a lower market demand, so needing fewer people than some months ago. Usually, the fall in economic activity is reflected in the employment numbers with some time lag.
Spiralling costs, a slump in consumer demand and high market volatility will significantly impact businesses' investment and hiring plans in the months to come. The fear now is that the labour market will take a turn for the worse soon.
While on the pay front there has been a similar development to that of the last few months. Regular pay grew by a solid, compared to pre-Covid trends, 5.2%. Although soaring inflation meant that, in real terms, people took home wages that were 2.8% lower. The still hot labour market and the strong growth in nominal pay, will give ammunition to the Bank of England for a fresh rise in interest rates.