First easing of food inflation in 18 months
15 February 2023
Food and drink prices rose by 16.8% in January, a slight easing on December's 16.9% and above UK's CPI inflation of 10.1%. This is the first time in eighteen months that annual food and drink inflation is easing. On the month, prices continued to rise by 0.6%
Topics
Of the 49 main food categories reported in the official statistics, only eight recorded inflation in single-digits. The highest rise in annual prices was for low-fat milk at 45.2%, while dried fruit and nuts saw the slowest increase at 2.7%.
Food and drink inflation by category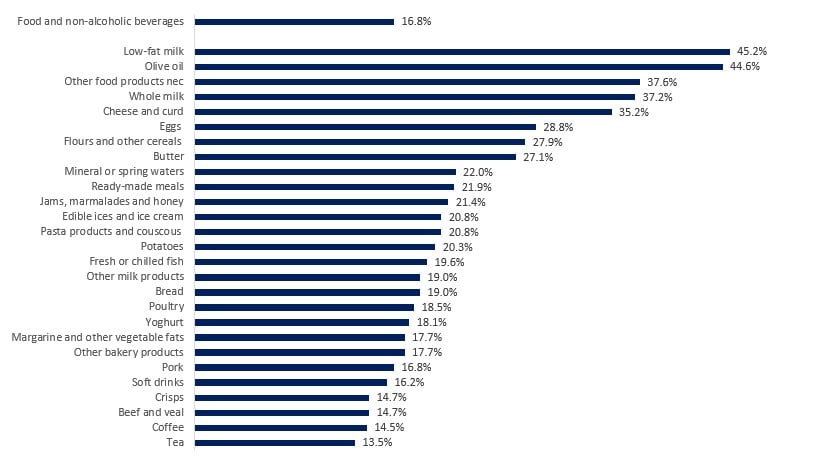 Source: ONS
Food and drink manufacturers faced higher prices for their ingredients, with UK-sourced ingredients being 18.0% more expensive (up from 17.7% in December) and imported ingredients 25.8% costlier (down from 26.9% in December). Goods leaving the manufacturers' facilities—output gate prices, saw inflation at 17.0%, unchanged from December.
These are the first signs that producer price inflation might be approaching its peak. In recent months, many pressures that built up over the last two and a half years have been easing, although we are still a long way from reaching conditions similar to those of 2019. Wholesale gas prices have declined significantly since last November, but both wholesale spot prices and gas futures are about double their 2019 prices. Global food prices have persistently fallen since March 2022, but remain at historic highs, in January being 30% higher than in January 2020. Global supply chain pressures are easing as well, while oil prices are now about 25% cheaper than in June 2022.
It's estimated it takes between seven and twelve months for rises in production costs to filter through to final consumer prices. This is because manufacturers use fixed term contracts both to buy supplies and sell to supermarkets. As a result, when commodity prices rise, manufacturers are shielded from these changes until they renew their fixed-term contracts. But that also works in reverse: when prices on the market fall, manufacturers will not receive price cuts until their contracts expire. This means that retail food inflation will persist throughout 2023, although, it's likely that food inflation is nearing its peak, as base effects are about to take hold.
For manufacturers, this year looks like another difficult one. Besides ongoing cost pressures, the industry is facing a slowdown in consumer demand. The cost of living crisis squeezed households, leading them to cut their spending. According to BRC-KPMG figures, food sales increased 7.9% over the 3 months to December. But with inflation in the last quarter running much higher than 7.9%, the volume of sales has clearly fallen, despite more people treating themselves at home over the festive season. According to ONS data, output in the industry has shrunk both in Q3 and in Q4 of last year.
Insolvencies continued to rise in November, suggesting December figures will show insolvencies in 2022 in the industry were double the rate of 2019.
Number of insolvencies

Source: The Insolvency Service
More worrisome still, investment has been on a downward trajectory since Q3 2021. The barrage of cost increases means that some companies have paused or cancelled investment projects. In turn, this will limit industry growth.
All of this comes against the backdrop of a slowing economy. The Bank of England expects GDP to fall slightly throughout 2023 and 2024 Q1, as still-high energy prices and interest rates weigh on business and household spending.
In summary, there are some reasons to be hopeful, but we're not out of the woods yet. While cost pressures have started subsiding, we're far from reaching price levels seen before the pandemic. Coupled with the difficulties manufacturers face when trying to pass on cost increases, squeezed margins, staff shortages and a decline in real spending, growth in the industry will prove a challenge.
The Chancellor can support us as we continue to face into inflationary headwinds in next month's Budget, including by incentivising companies to invest while trading is so tough, reforming the Apprenticeship Levy, and by ensuring new regulations on plastics and packaging both drive up recycling and drive down prices.