Food inflation soars
14 September 2022
August's food and drink prices rose at an annual pace of 13.1%, just shy of 13.2%, the highest rate since 1989 when figures started being measured using current methodology.
Food and non-alcoholic drink made the largest upward contribution to the monthly rate, which decelerated to 9.9% from July's 10.1%, while falling prices for motor fuels resulting in a large offsetting downward contribution.
Topics
Prices rose in double digits for 35 of the 49 main food and drink categories reported in the official statistics, with low fat milk inflation reaching 40.4%, and some other categories close to tipping over the 30% mark, such as butter (29.5%), whole milk (29.4%), jams and honey (29.1%) or flours and other cereals (28.1%).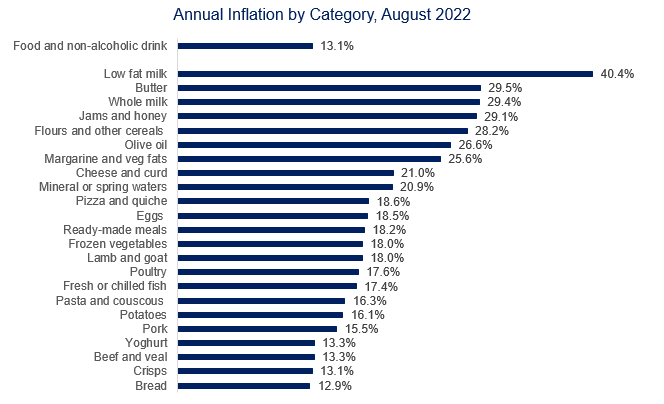 Source: ONS.
Producer price inflation continued to pick up steam in August. Food and drink manufacturers faced higher prices for their ingredients, with food ingredients produced in the UK being 17.0% more expensive (down from 18.4%, revised, in July) and imported ingredients 24.8% dearer (up from 23.9%, revised, in July). Goods leaving the manufacturers' facilities—output gate inflation, saw inflation inching up to 14.2% (up from 14.1%, revised, in July).
Inflation is likely to accelerate in coming months and to remain high throughout the next year as energy prices are spiralling and the spell of hot, dry weather around the word this summer will impact current and next year's harvests.
Unfavourable weather conditions in Europe, the US Midwest, China and other parts of Asia means smaller agricultural yields this year and potentially smaller crops next year as some fields will not be fallowed. In the UK, crops of potatoes, onions, sugar beet and other root vegetables, and apples have been impacted by the drought. The EU's projections of maize, soybeans and sunflower outputs are now down by more than 10% compared with averages of the previous five years.
Besides harvests impacts, the drought in Europe, judged to be the worst in 500 years, forced animal farmers to use some of their stocks of feed reserved for the winter, as crops become harder to cultivate in extreme heat. In turn, this will bear on the production of animal food products, from meats to diary and eggs.
All of these come to exacerbate issues brought about by fertiliser shortages, at a time when global food prices are already very high. Despite some declines in recent months, global food prices were 41% higher in August 2022 than they were in August 2019, with cereal prices 45% higher and vegetable oils 103% higher (see below chart).

Source: UN FAO Food Price Index.
For food manufacturers, this means that ingredient prices will continue to rise. Businesses have been grappling with relentless rises in the prices of ingredients, energy, transportation and packaging costs over the last two years. The recent rises in energy prices in the range of 400-500% annual increases and now the prospect of global food shortages and, hence, even higher ingredients prices, might prove un insurmountable challenge for many SMEs in our sector. Smaller businesses have a lower ability to absorb costs. In addition, they are subject to more market volatility as they work on short-term contracts and are unable to hedge some of the risks. In this context, the government energy support plan cannot come soon enough.
The capping of energy bills will bring some relief to households as well, although the cost of living crisis will continue in earnest. The proposed cap is still more than double compared to those of 2019 or 2020, food inflation will strain budgets, while inflation will continue to outpace pay growth, eroding real incomes.