Food prices are rising as UK inflation hits 40-year high
18 May 2022
Food and non-alcoholic drink inflation picked up speed for the ninth consecutive month, reaching its highest level since June 2011. April's food and non-alcoholic drink prices rose on an annual basis by 6.7%, up from 5.9% in March.
Topics
Many goods saw prices rising at double-digit rates, such as margarine and other vegetable fats (22.7%), butter (12.5%), beef and veal (10.2%) or poultry (10.1%). These price pressures reflect increases in production costs brought on by the pandemic. Prices of agricultural commodities started rising in the second half of 2020. As it takes up to a year for production cost inflation to filter through into consumer prices, pandemic-related upward price pressures will be felt for months to come.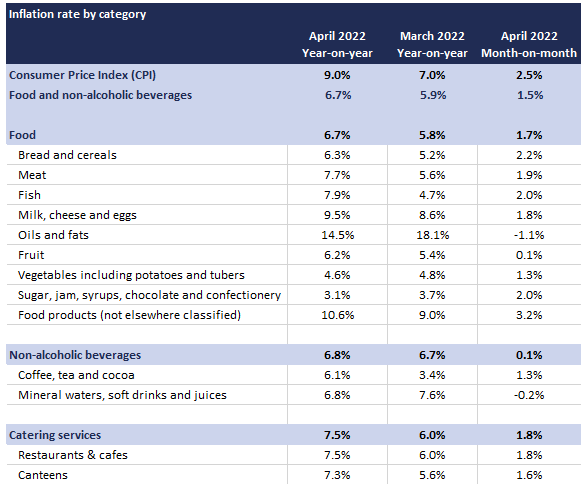 The war in Ukraine continues to exacerbate inflationary pressures. This means food inflation is likely to remain high well into 2023, as evidenced by the continued rise in producer prices in April. Ingredients produced in the UK were 9.6% more expensive than a year ago (up from 7.4% in March) and those imported 15.7% dearer (up from 11.3% in March). Factory gate inflation of food output leaving manufacturers' facilities accelerated to 8.7% (up from 7.2% in March).
Record-high agricultural prices will continue to put additional strain on food manufacturers. In April, global prices of vegetable oils were 28% higher than just in the beginning of the year (January 2022) and cereals 21% higher. And while April's global food prices retreated slightly from March, India's decision to limit wheat exports sent price shocks through the markets, with prices climbing 6.5% in just two days.
Before the invasion, international food prices escalated due to poor weather conditions and Covid-related labour restrictions. Now, sanctions and rising protectionism by different states are fuelling global food inflation, different governments restricting exports of grains, cooking oils and pulses. The International Food Policy Research Institute estimates that the share of restricted products in the world food trade measured in calories was 17% in April, a level not seen level seen since the 2007-2008 food crises, with 23 countries adopting food export restrictions.
We expect food inflation to reach 10% by the end of the year. The industry operates under slim margins and cannot absorb the full extent of the barrage of cost rises. The new challenges brought by the war in Ukraine are impacting our food manufacturers disproportionately, as global food supply chains have been severely disrupted and the risk of food shortages is increasing, in addition to energy prices going off the charts.
In the wider economy, inflation reached a 40-year high of 9% in April, up from 7% in March. As expected, energy prices had the largest contribution to the annual inflation rate, with electricity prices rising in April by 53.5% and gas prices by 95.5%. Transport and food provided the second and third largest push to inflation.
The cost of living crisis is playing out in earnest, as incomes are now in firm negative territory, lagging 1.2% behind inflation in March. A Food Foundation survey found that in April 1 in 7 British households were food insecure, 4.6% going without a meal for a whole day.
This makes for a grim outlook for the remaining of the year. The Bank of England rose rates to 1.0% for a fourth consecutive time as it looks to rein in inflation, and markets are pricing in another five hikes by spring of next year. However, in the face of severe global inflationary pressures, monetary policy makers don't have many tools left at their disposal. Therefore, it is vital industry and government work together to look at how we can keep down the cost of doing business and ensure we are doing all we can to stimulate growth across the UK.