The UK economy grew by 7.5% in 2021, recovering from its 9.4% pandemic plunge in 2020. On a quarterly basis, Q4 output was 1.0% above its Q3 level. The setback from Omicron was less severe than initially feared, with December's GDP shrinking by 0.2% compared to market expectations of a contraction of 0.6%.
Services were the main contributors to GDP's fall in December. Within the sector, the subsectors contributing the most to the decline were Wholesale & Retail, which shrank by 3.2% compared to November, and Accommodation & Services, with a 9.2% monthly fall.
The ONS estimates that the food and drink manufacturing output grew in 2021 (see table), but it's yet to reach its pre-pandemic level. For 2022, the industry is expected to grow despite the many headwinds ahead.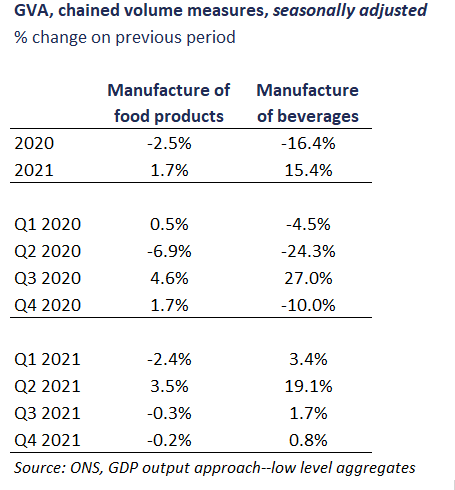 Supply constraints and labour shortages have weighted on UK and global activity alike in the second half of 2021. These pressures do not seem to wane, and the cost increases generated by shortages across the board come to further complicate matters for the future. The Bank of England expects inflation to peak in April at 7.25%. To tame the pace of price increases, the Bank has risen interest rates for the second time in February, with more tightening expected.
The inflationary impact on households' budgets is particularly worrisome for future growth as household consumption is the driver of growth. In the aggregate, households have built their savings during the pandemic, so they are able to weather the inflationary shock. However, the uncertainty about future price rises will mean a cautious approach to spending. Moreover, less affluent consumers will particularly feel the brunt of the rise in energy prices – which will increase again in April, by 54%, and of food inflation. That's because poorer households spend more of their income on food and energy, and many were not able to save during the last two years.
All of the above means that the outlook for 2022 is a difficult one for the food and drink manufacturing industry. As the Government set its levelling up agenda, the industry is in a unique position to have a significant contribution, given its presence in each UK constituency through the 11,000 food and drink manufacturing enterprises. The industry is focused on increasing the adoption of automation, robotics and technology and on creating access to the skills and talent needed for its businesses to thrive. Although the reality of substantial costs rises in ingredients, raw materials, energy and wages, and ongoing chronic labour shortages limits the industry's ability to invest.