A picture of mixed growth for the food and drink sector
12 August 2022
The second quarter was a mixed bag for the food and drink manufacturers, with some sectors expanding and others shrinking. Dairy, grain mills and bakery subsectors grew by over 2% and non-alcoholic drink manufacturing by 0.5% compared to the first quarter. All other sectors contracted – most notably, oils and fats shrank by 9%, with the shortage of oils due to the war in Ukraine likely a factor.
Topics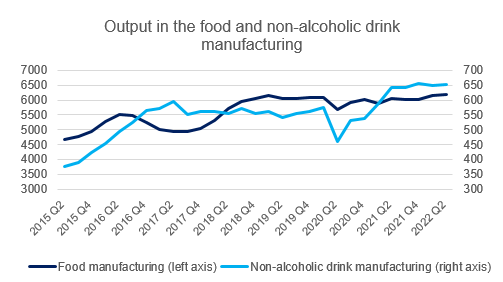 Source: ONS
The bigger picture for the industry, contrasting Q2's performance with pre-pandemic levels, is one of diverging trends of solid growth for some subsectors versus pronounced declines for others. The non-alcoholic drink, dairy and bakery sectors are now significantly larger than they were before the pandemic, while all the other sectors are smaller than they were at the end of 2019.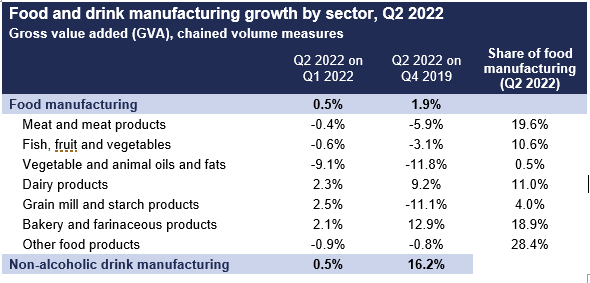 The UK economy is in a precarious position, with GDP falling by 0.1% in Q2. Household consumption fell by 0.2%, as the cost of living crisis started to bite. With inflation expected to accelerate in months to come, higher mortgage rates and a fresh rise in the energy cap in the autumn, consumption will continue to slow. The Bank of England predicts the economy will enter a 15-month recession in Q4, with GDP dropping over 2%. The National Institute of Economic and Social Research forecasted a recession starting in Q3.
Inflationary pressures for food and drink manufacturers continue to intensify. In June, food ingredients produced in the UK were 14.3% more expensive on the year (up from 10.5% in May) and imported ingredients saw a rise of 23.2% (up from 21.4% in May). Industry labour shortages are also increasing, with 6.3 vacancies for every 100 jobs in Q2 – up from 5.2 vacancies in Q1 – and almost 50% higher than in UK as a whole, where the Q2 vacancy rate stood at 4.3. This will push up wages for businesses who are also contending with the doubling of the price of gas since the spring.
As a result costs have risen significantly. Manufacturers are trying hard to contain these rises, through cuts to advertising and investment – but there are limits. Some will have to be passed on (food prices were 9.8% higher in June than a year ago) to keep firms financially viable.
Today's data shows business investment in the industry was 5% below its Q1 2022 level, 19% below Q2 2019 level and 29% below Q2 2021 level. The decline in business investment is worrying. Not only are growth prospects being squished, but the industry risks losing its global competitive edge as research is side-lined. Moreover, the extremely uncertain economic and political outlook, means significant investment projects are kept on hold and the negative impacts of slowing investment will be felt for years.
As significant squeezes on real income continue and business conditions remain harsh, our industry is in a tight spot. The new Prime Minister needs an ambitious economic package that addresses the cost of living crisis and supports businesses to invest, with a reform of R&D tax credits, to stimulate growth, and the Apprenticeship levy to address the labour shortages our industry currently faces.